DESKO ID|Analyze®
Software for fast and secure ID analysis
Whether in registration offices, licensing authorities, banks or companies, reliable ID checks are becoming increasingly important – and increasingly difficult – in many areas. Given the variety of national and international ID documents and the complexity of IDs, passports and other documents, it is becoming more difficult to identify and correctly evaluate international ID documents without relevant specialist skills. With our software, DESKO ID|Analyze®, we meet this challenge to offer you and your employees a tool for secure and rapid analysis of IDs. Our complete system comprising a DESKO scanner and the ID|Analyze application supports and relieves your employees, provides additional security and optimizes your work processes.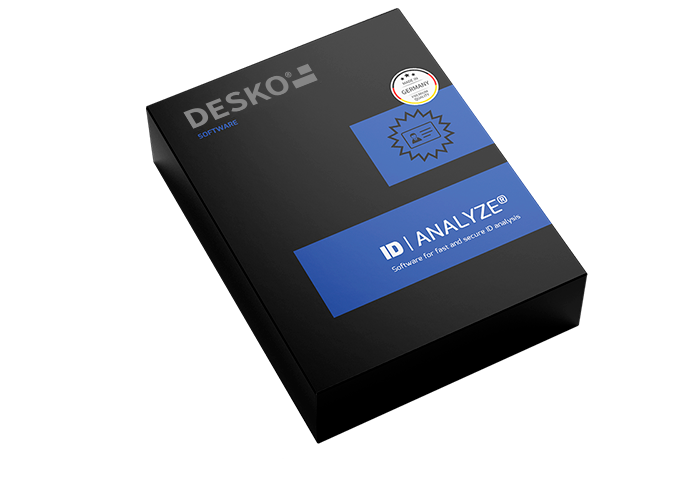 Efficient combination of hardware and software
The compatible scanners capture a wide variety of national and international passports, ID cards and other identity documents in a matter of seconds. They generate images of the documents under various light sources (e.g. visible, infrared and ultraviolet light). In addition, depending on the device, the data saved on the RFID chip of biometric passports can also be read. These reading results are transferred to the application and displayed in a clearly comprehensible format in ID | Analyze.
Apart from all important information, any discrepancies that indicate potential manipulation or forgery of the presented document will be displayed in an easily visible manner. This provides you with a tool for substantiating or investigating an initial suspicion. Would you like to show the results to an expert or process them later? Then you can easily save the recorded images and data in a report.
Reliable identity verification
for many sectors
Counterfeit documents can cause considerable consequences and enormous damages in serious cases. Meticulous document verification minimizes the risks of identity theft, money laundering, theft and other cases of fraud. ID | Analyze provides you with a reliable tool to simplify document checks. The combination of hardware and software has already proven its utility in many sectors and is successfully applied in the following areas, for example:
Added security
thanks to additional features
ID|Analyze offers you many options for identifying discrepancies in ID documents and presenting them in the form of a reliable and transparent analysis. Depending on your needs, you can access additional features:
Barcode reader
Many international ID cards feature a barcode. ID|Analyze can read this and display the data to you.
ID Collect
In combination with DESKO ID Collect®, you can add data from the machine-readable zone (MRZ) of the ID to the information in the visible zone (VIZ) and compare these specific data sets. This offers you added security.
IDCC (ID Check Center)
Access this database with more than 3,600 reference documents for IDs from more than 200 countries. A variety of scans and helpful details assists you when comparing the inspected document to a real reference.
The advantages for you at a glance
Rapid and reliable check of ID documents
Secure protection against identity theft
Transparent display of results
Database with more than 3,600 national and international reference documents (optional)
Easy installation and user-friendly operation
Optional data storage for further processing
Application

Reading: In combination with a DESKO scanner, the software reads ID documents and captures data from the machine-readable and visual zones (MRZ/VIZ), from barcodes (optional) and from biometric documents.
Analysis: Any discrepancies that indicate potential manipulation or forgery of the presented document will be clearly displayed.
Result: All important information about the document is displayed to the user in a transparent manner.
Save: All scans and inspection results can be saved as a report for any future processing.

Hardware

The following DESKO devices are supported:

Download